Tri-Town Ambulance is proud to be one of the best equipped ambulance
services in the State of New Hampshire.
We provide 24 hour Paramedic Coverage to our three towns of Pembroke,
Allenstown & Hooksett. Tri-Town is fully equipped with state of the art
equipment and Advanced Cardiac Life Support medications.
Our members are highly skilled and professional Emergency Medical
Service care providers.
All three of our ambulances run with Lifepak-12 monitors.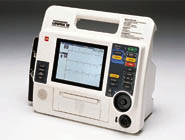 With the lifepak-12 monitor, our Advanced Life Support
personnel are able to do 12-lead EKGs, which means they are able to diagnose and treat myocardial infarctions (heart attacks) in very early stages, leading to a higher survival rate of patients having heart attacks. The
lifepak-12 also is what we use to defibrillate people in cardiac arrest.
Thumper is a machine which is used during a cardiac arrest, which is
when a patient's heart has completely stopped. Manual CPR
(Cardiopulmonary Resuscitation) is done by the machine. It delivers
five chest compressions and after the patient has been intubated
by one of our paramedics, Thumper will deliver oxygen to the patient as well.
Thumper delivers controlled, consistent, and uninterrupted CPR throughout the resuscitation attempt, allowing EMS personnel to start IVs to deliver ACLS
medications and work with the Lifepak-12 monitor to defibrillate.
Our Advanced Life Support Personnel also are using IV pumps in the field
which allow for pre-hospital medication infusions. Glucometers allow us
to check blood glucose (sugar) and 02 saturation monitors are used
to tell us the percent of oxygen which a patient's body is using, so if it is too
low our paramedics can give the proper interventions.
Back to the Tri Town Ambulance Home Page